Creative Masters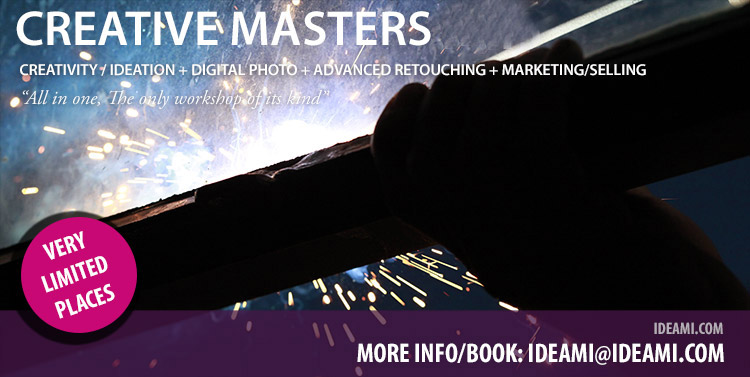 What is Creative Masters
Creative Masters is the ultimate creative workshop. Award winning Ideami brings you the workshop of your dreams, an All in One Creative Ride: Creative thinking skills+Multisensorial Ideation+Digital Photography Art+Advanced Photo Retouching+Marketing & Selling. For the first time, Ideami brings you this unique combination in a single experience. Shake your mind and enter a world of new possibilities with Creative Masters.
What you get
Become more creative, balance your analytical and creative thinking strategies and skills.
Accelerate the process of creating new ideas and finding solutions/insights for your professional and personal challenges.
Channel your creativity through outstanding digital photography.
Learn advanced retouching tips and techniques.
Learn effective online marketing techniques.
Learn how to market and promote your art.
Combine traditional tools with advanced technology only available on Creative Masters.
Awaken, reinforce and empower your creative thinking, collaboration, communication, observation, lateral thinking, improvisation, spontaneity and other essential skills for your professional and personal life, including those indentified as the most critical to achieve success by the IBM world CEO study.
Expand brainstorming to involve sound, light and more!
Involve all your potential to tackle the complexity of today's challenges.
Get feedback on your work from peers and organizers.
A complete Shakeup of your mind that will empower your creativity and your skills to deal with all kinds of professional and personal challenges. Designed by award winning Ideami Studios, Creative Masters is ideal for organizations, businesses, groups and individuals of all sizes and backgrounds. Book today your Creative Masters, Email us at ideami@ideami.com
---
Summary of Content
Module 1 | Creative Ideation
10 Keys of Creativity
Multisensorial Ideation
Understanding your challenge
Ideation Exercises using language, visuals, sound, movement and more

Module 2 | Photography Master
Keys and Secrets of Composition
Precise Exposure Control
Controlling movement
Low light scenarios advanced tips
The key to outstanding portraiture
Legal issues
Portrait exercises

Module 3 | Retouching Master
Advanced skin and facial retouching
Dial Down Tricks
Advanced Masking Techniques
Advanced Extraction Techniques
Montages, atmospheric blending
Advanced retouching exercises

Module 4 | Creative Business
Guerrilla & Pro Marketing
Effective Online marketing
Selling online
What works and what doesn't
Feedback Critique sessions

Module 5 | Creative Project
A combination of all the learnt material applied to a new or existing project, including feedback and support throughout the day
---
Other details and Booking Creative Masters
Booking: For next dates and details contact ideami@ideami.com.
Duration: The workshop can be configured as a 3,4 or 5 day experience.
Requirements:
Laptop with Photoshop (Free Trial Version valid)
DSLR Camera & Mobile Phone

---
Why Creative Masters is useful
IBM's global study on 1500 CEO's in 66 countries and 30 industries, in its 2010 and 2012 editions, concludes that Creativity is the most crucial factor for future success.
Creative Masters focuses on those traits and skills that the Global IBM study, largest of its kind, considers most important for success in our professional and personal lives. Based on years of research and the unique multidisciplinary experience of Ideami, Creative Masters is especially designed to stimulate and reinforce creative thinking, thus enhancing our overall productivity, energy and balance. An ideal boost for all types of professionals, entrepreneurs, employees, managers and businesses.
---
Join Creative Masters
Expand your modes of thinking and generating ideas, take your photographic, visual and retouching skills to the next level, welcome a new creative spring in your mind. For more info and/or pre-booking contact ideami at ideami@ideami.com