Concept: The film reflects about the future of the human species as technology keeps bringing us closer towards the creation of hybrid beings part human, part machine. And the ultimate question of what are we really, what is the human brain, is it closer to the machines we are starting to develop, or is it a totally different metaphysical entity; and Finally, what will happen with emotions as humans and machines interact in the future; how will Love and Survival relate to each other, what level of emotions will machines posses, will humans be able to connect at an emotional level with machines and viceversa?
Synopsis: Two sisters try to outsmart each other as they attempt to figure out why and which one of them will be sent away by their father after their mother's death. In the process, they will discover something that will become a threat to their own survival and pose a question about who they really are.
Trivia: Javier Ideami directed an international team in the heart of the island of Bali in Indonesia. Dialogues are in indonesian with subtitles available in english and spanish.
Metropolis Television Award
International Video & Digital Arts Girona Festival
Director's Special Recognition Award
San Francisco International SFShorts Film Festival
Special Jury Prize
International Short Film Festival Radio City, Valencia, Spain
Xperiment Visual Award
FasCurts Film Festival,Masnou-Barcelona, Spain
Other Official Selections / Nominations at:
The Lift-off Sessions Los Angeles, USA
WOW Film Festival Tunisia
London Sci-Fi International Film Festival, UK
242 International Rome Film Festival, Italy
X_Science – Genova Film Festival 2011
Cryptshow Film Festival, Badalona, Spain
Dia de Asturias, Gijon International Film Festival, Spain
Science+Fiction International Film Festival, Trieste, Italy
Mirada en Corto Film Festival, Argentina
Videoholica International Video Art Festival, Varna, Bulgaria
Silicon Valley Film Festival, CA, USA
Ventura Film Festival, CA, USA
We Speak Here Film Festival
Hidden Doors Festival, Edinburgh, UK
Picnick film festival, Cantabria, Spain
Freakedout Film Festival, Lublin, Poland
Obuxofest film festival, Huesca, Spain
Festival Internacional de Vídeo Arte de Camagüey, Cuba
Fancine international film festival of fantastic film in Malaga, Spain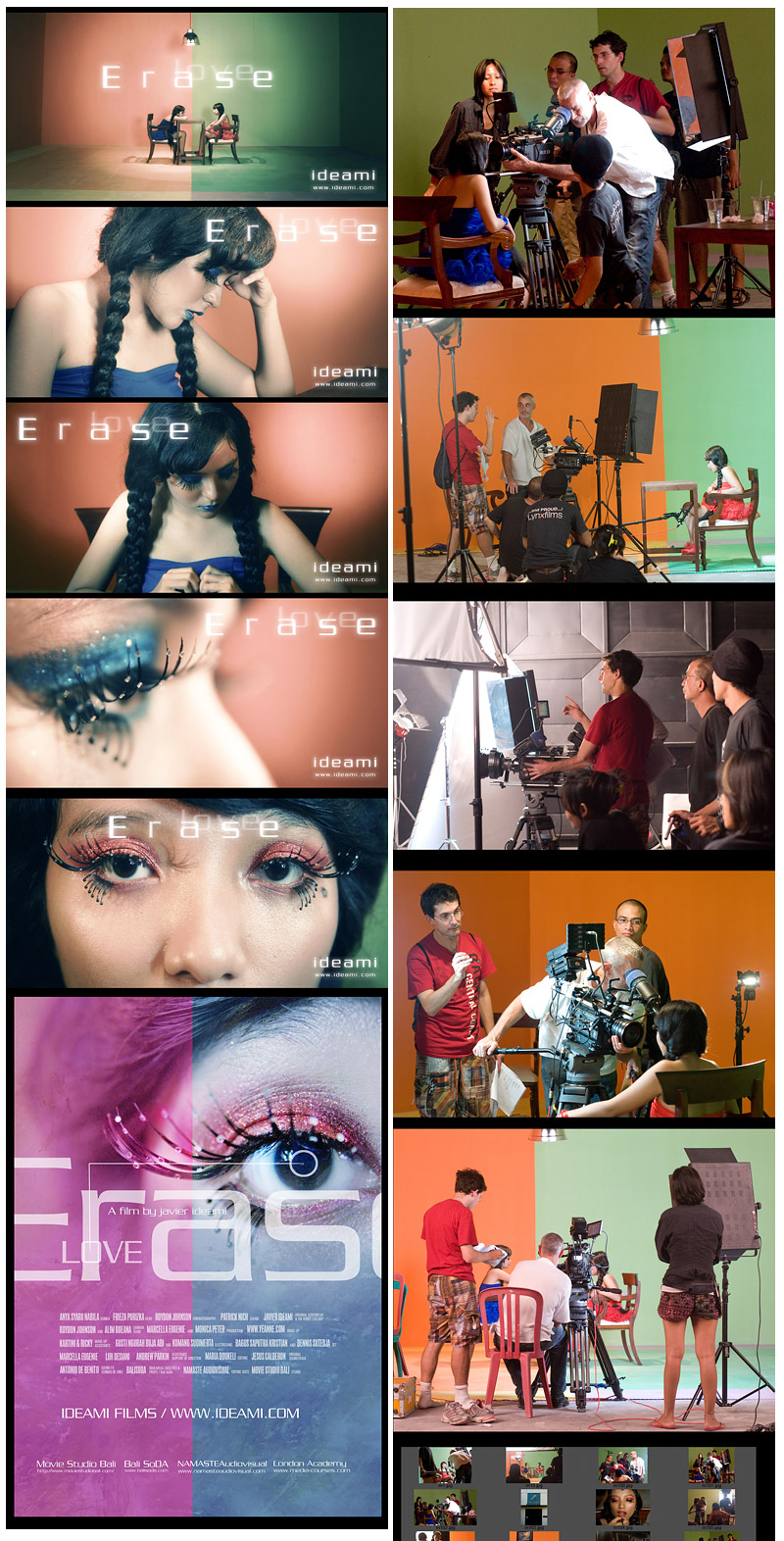 Team
Director
Javier Ideami
Executive Production
Javier Ideami
Associate Production
Sonia Ghani
Production Team
Marcella Eugenie
Monica Peter
Assistance and
Support of Direction
Marcella Eugenie
Andrew Parkin
Rehearsal Facilities
Bali SoDA: Bali School of Dramatic Art
Maria Gilbert & Sigit Suryawan
Production
Cast
Anya Syari Nabila
Frieza Porizka
Music Composed by
Jesus Calderon
Cinematography
Roydon Johnson
Camera
Roydon Johnson
Alim Boeana
Sound
Patrick Nich
Makeup
Yeanne / www.yeanne.com
Kartini & Ricky
Electrician
Gusti Ngurah Buja Adi
Komang Sudimerta
Set
Bagus Saputra Kristian
Dennis Sutedja
Original Song / The Robot's song
Melody & Lyrics by Javier Ideami
Orchestration by Jesus Calderon
Post
Editing
Maria Doukeli
Sound FX
Antonio de Benito
Editing Facilities
Namaste Audivisual
Panos Bournias & Maria Doukeli
Color Correction
Ideami Studios