The Last Dinner

Concept: Of how fear caused by events or traumas can distort our view of reality, and often how once we face that fear, we see it for what it really is – a figment of our imagination less potent and menacing than we first thought.
Synopsis: A man hides in a building from an army that is searching for him (The army represents Fear). The man reaches a window and he prepares to commit suicide as he feels there is no escape from his situation; In those last moments the man doubts if he should jump or not, and inside his mind he tries to imagine what his future would be in a final desperate attempt to seek out any hope beyond the fear that chases him.
Through a symbolic dinner, the man and a projection of himself in old age will together search for the strength and the courage that will allow him to face his fear, so that they can stimulate an awakening that allows him to see what really is within that fear (What is there over those boots that chase him everywhere? who is carrying those boots?)
To look deeply at life provides understanding, and this understanding frees us from fear (To look and to listen deeper.. so that the veils that blind us dissolve…)
Trivia: Javier Ideami directed a team of 40 in this film that reflects on how fear can distort our view of ourselves and the world around us. Filming took place in the Casa Bures of Barcelona.
Official Selections at:
Barcelona Film Prizes
Girona Film Festival, Spain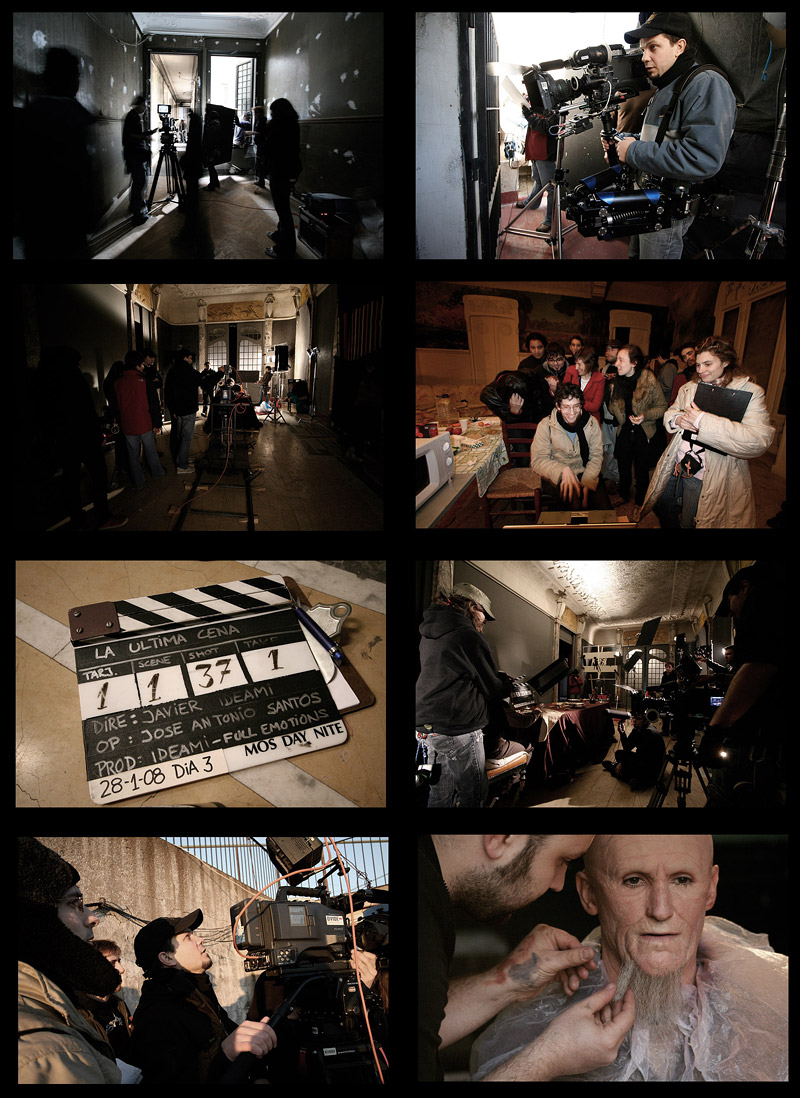 Team
Director
Javier Ideami
Executive Production
Christian Rodrigo
Javier Ideami

Production Director
Raquel Garcia

Production Team Director
Pablo Menendez
Production Assistants
Pepe Ordaz
Rodrigo Lomeli
Josep Prim
Original Script
Javier Ideami


Production
Cast
Christian Rodrigo
Music Composed by
Jesus Calderon
Cinematography
Jose A.Santos
Assistant Director
Andres Gonzalez
Aux.Director
Ismael Sanchez
Continuity Supervisor
Jordana Yontney
Photography Assistant
Joan Vitores
HD Technician
Sergio Marquez
Camera Auxiliar
Nuria Perez
2nd Boot Unit
Jesus Amaro Torres
Production Photography
Marta Moreiras
Gaffer
Jacinto Montane
Luis Caballero
Electrician
Anusca Penalba
Ismael Sanchez
Fabio Giolitti
Maquinist
Alvaro Mesuro
Itziar Garaluze L.U.
Direct Sound
Jofre Llivina
Sound Assistant
Marcos G.Nunez
Make-up
Alana Gayet
Make-up FX
Arturo Balseiro
Art Director
Esther Criado
Art Dept
Carlos Seijo
Veronica Lorenzo
Stylist
Vanessa Diaz
Post
Editing
Javier Ideami
Post of Sound and Mixes
Antonio de Benito
Sound Dubbing Unit
Martin Ortega
Avid Consultants
Catalin Brylla
Sergio Marquez
Color Correction
Benece / Jaume Vidal
Army Sound
Aloido Studios
Jaime Aloido
Ideami Studios Cover
C4P4.com
The Army Cast
Virginia Berlin
Esther Criado
Carlos Seijo
Oscar Colomina
Veronica Lorenzo
Ismael Sanchez
Jordana Yontney
Pablo Menendez
Josep Prim
Alana Gayet
Marta Moreiras
Melkys Benitez
Guillermo Duru
Marc Suarez
Maria Gomez Lopez
Blanca Moriyon Cabanas
Rocio Mendez Perez
Fabiola Rodriguez Calvino
Ursula Vargas Pinto
Alejandro Bautista Gomez
Tania Villa Vargas